Investing in real estate in Hyderabad is an excellent idea, not just for residential purposes but also for commercial purposes. The demand for property and real estate in Hyderabad has increased manifold, and there are many opportunities available over time. The real estate developers have started constructing projects to a great extent in Hyderabad and making it the biggest city in Telangana. Real estate in Hyderabad has come at the top in terms of investment, and real estate properties in the city are pretty expensive.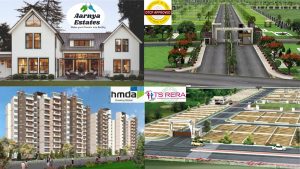 However, the investors looking forward to making profits from this highly growing real estate market in Hyderabad have to be very careful about buying or investing in properties. The market is full of reputed real estate developers involved in multiple projects in the city and is offering various types of real estate properties. So, before buying any property, the prospective buyers should check out as much as they can about the properties to get a clear idea about their actual price and returns. BBG India & JSR Sun city have Multiple Projects in Hyderabad.
Investors who plan to buy a residential property in Hyderabad should always be aware of the different properties available in the city. They should always keep an eye on the rental and income rental rates of the project. Apart from this, they should know about the prices of various projects they plan to invest in. All these factors would determine the real estate investments that are made in the future.
Real estate in Hyderabad includes both luxurious and affordable residential properties, and hence investors can easily choose one depending upon their needs and financial stability. There are many popular areas in the city where investors can look for residential properties. Some of these areas include Gachibowli, Kokapet, Banjara Hills, and Tellapur. Some of these properties are fully furnished, and others come with basic facilities such as plumbing, AC, and even Wi-Fi connectivity.
The commercial properties in Hyderabad also provide excellent opportunities for investing, as they offer more value for money. These include malls, hotels, and offices. Many people buy plots of land to make a housing society. However, the investors can also look for estate developments with the help of developers, which have the required expertise, experience, and reputation.
One of the most significant advantages of investing in real estate in Hyderabad is that the price of the properties does not fluctuate that often. Thus, the investors can get the best deals at the most appropriate times. Therefore, they need to take extra precautions while dealing in any deal involving real estate properties. They should only deal with developers or real estate agents who have a good reputation in the market. However, they should also remember that they need to be very careful while dealing in these kinds of sales, as several fraudulent entrepreneurs are around.
The investors also need to purchase properties from the right places and at the right time. They need to plan their strategy well to make profits. Many investors do not make much profit due to poor investment decisions. They can also increase their profits by making more right investments.
Real estate investors need to maintain a constant track record of their properties. If they can appropriately sell a property, they will earn more profits in the future. It will help them to save money in the future. The investor should check out the prevailing market rate regularly. By doing this, they will be able to earn more profits and avoid any problems regarding the real estate in Hyderabad.
Kindly Note above information Collected From Different Sources. If you have any questions or talk about this topic, do not hesitate to share your opinion. Click Here  for any Comments or Feedback.